When God Created KittyCats
When God created kitty cats,
He had no Recipe;
He knew He wanted
Something sweet,
As sweet as sweet could be.

He started out with sugar,
Adding just a trace of spice;
Then stirred in drops of
Morning dew,
To keep them fresh and nice

He thought cats should be soft to pet,
So He gave them coats of fur;
So they could show they were content,
He taught them how to purr.

He made for them long tails
To wave,
While strutting down the walk;
Then trained them in meow-ology,
So they could do cat-talk.

He made them into acrobats,
And gave them grace and poise;
Their wide-eyes curiosity,
He took from little boys.

He put whiskers on their faces,
Gave them tiny ears for caps;
Then shaped their little bodies,
To snugly fit on laps.

He gave them eyes as big as saucers,
To look into man's soul;
Then set a tolerance for mankind,
Their purpose and their goal.

Benevolent...and...Generous,
He made so many of them;
Then charged, with fatherly concern,
The human race to love them.

When one jumped up upon His lap,
God gentle stroked its head;
The cat gave Him a kitty kiss,
"What wondrous love," God! ! Said.< B R>
God smiled at His accomplishment,
So pleased with His creation;
And said, with pride, as He sat back,
"At last...I've reached purr-fection!"

Unknown Author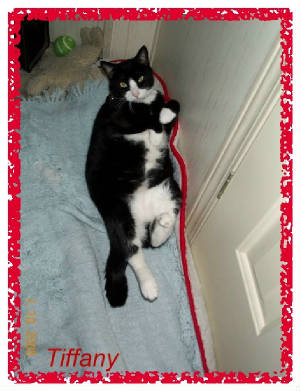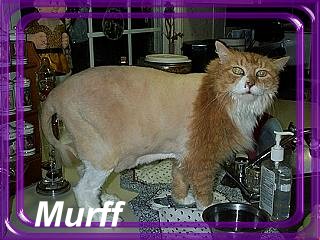 Murphy Murdock,gone but not forgotten
May 12,1991--Feb.18,2006
I am an Animal Rescuer
My job is to assist God's creatures
I was born with the need to fulfill their needs
I take in new family members without plan, thought or selection
I have bought dog food with my last dime
I have patted a mangy head with a bare hand
I have hugged someone vicious and afraid
I have fallen in love a thousand times
and I have cried into the fur of a lifeless body
I have Animal Friends and friends who have animal friends
I don't often use the word "pet"
I notice those lost at the road side
And my heart aches
I will hand raise a field mouse
And make friends with a vulture
I know of no creature unworthy of my time
I want to live forever if there aren't animals in Heaven
But I believe there are
Why would God make something so perfect and leave it behind
We may be master of the animals,
But the animals have mastered themselves
Something people still haven't learned
War and Abuse makes me hurt for the world
But a rescue that makes the news gives me hope for mankind
We are a quiet but determined army
And making a difference every day
There is nothing more necessary than warming an orphan
nothing more rewarding than saving a life
No higher recognition than watching them thrive
There is no greater joy than seeing a baby play
who only days ago, was too weak to eat
I am an Animal Rescuer
My work is never done,
My home is never quiet
My wallet is always empty
But my heart is always full
In the game of life, we have already won
-Annette King Tucker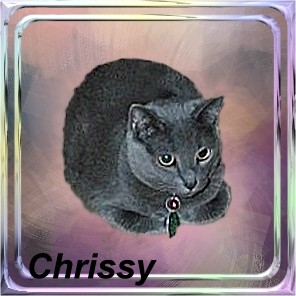 HERE IN THIS HOUSE...
I will never know the loneliness that I hear in the cries of the other
animals 'out there'.
I can sleep soundly, assured that when I wake my world will not have
changed.
I will never know hunger, or the fear of not knowing if I will eat.
I will not shiver in the cold, or grow weary from the heat,
but rather, I will nap in the sun's warmth, and play in the rain's coolness,
and be allowed to smell all that can reach my nose.
My fur will shine, and never be dirty or matted.

HERE IN THIS HOUSE...
There will be an effort to communicate with me on my level.
I will be talked to and, even if I don't understand,
I can enjoy the warmth of the words spoken to me in kindness.
I will be given a name so that I may know who I am among many.
My name will be used in love and joy, and I will relish the sound of it!

HERE IN THIS HOUSE...
I will never be a substitute for anything I am not.
I will never be used to improve peoples' images of themselves.
I will be loved because I am who I am, not someone's idea of who I should
be.
I will never suffer for someone's anger, impatience, or stupidity.
I will be taught all the things I need to know to be loved by all.
I will be praised for my successes, instead of punished too harshly for my
mistakes.
If I do not learn my lessons well, they will look to my teacher for blame.

HERE IN THIS HOUSE...
I can trust arms that hold, hands that touch...
knowing that, no matter what they do, they do it for the good of me.
If I am injured or ill, I will be doctored.
If I am scared, I will be calmed.
If I am sad, I will be cheered.

HERE IN THIS HOUSE...
No matter what I look like, I will be considered beautiful and known to be
of value.
I will never be cast out because I am too old, too ill, too unruly, or not
cute enough.
I will not be left behind because my humans moved - I will move with them.
If a new human baby joins my family, it will not 'replace' me,
but instead will be one more human for me to love, and to love me.
I will not be treated as disposable.
My life is a responsibility, and not an afterthought.
I will learn that humans can almost, sometimes, be as kind and as fair as
other animals.

HERE IN THIS HOUSE...
I was RESCUED, because I was WANTED!
I will BELONG!
I will be home - FOREVER!
AND I WILL BE LOVED!

Anonymous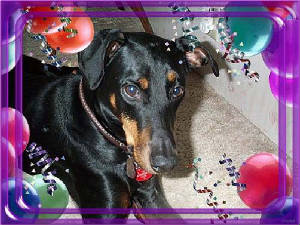 Miss Bridgit Alexis,Oct. 8, 1993-July 21, 2005.
All the angels above greeted the newcomer
with open arms.
Heaven, we know, just got a little nicer.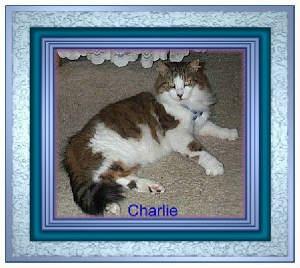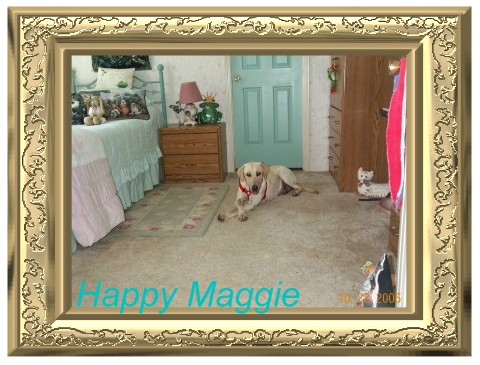 Maggie Angeletta was adopted from the shelter on Oct.14,2005.